Page Content
Text
UNIFORM
Our uniform consists of a green jumper with the Hollypark logo. Grey school trousers and black shoes. On PE. days, our school tracksuit is a green top and pants with a yellow crested Hollypark t-shirt. green Hollypark shorts (green) can also be worn during warm weather periods. 
All of our uniforms are available to purchase in 'Uniformity' on the Ballyogan Road, Dublin 18 or by clicking the link attached to order online. 
Text
Our School Day
8.40 a.m.   School opens
8.45 a.m.   Instruction begins.
1.25 p.m.   School ends for Junior and Senior Infants
2.25 p.m.   School ends for all other classes
Classes must use their specific entrance door.
All pupils are expected to be punctual.
No responsibility is accepted for pupils outside of these times.
Image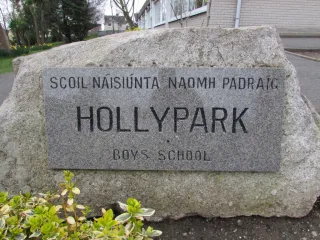 Text
Travel to and from school
Pupils are encouraged to walk all, or part of the way, to and from school.
While the school has no legal responsibility or control over pupils travelling to or from school they are expected to behave in a manner in keeping with school standards.
They will be regularly instructed and advised on Road Safety, Role of Traffic Wardens, Use of Public Transport, Good Citizenship, etc.
The staff of the school cannot accept responsibility for pupils before the official opening time of 8.40a.m.
Pupils with bikes should not cycle until they are outside the school grounds.
If dropping or picking up your child from school please use the routes drawn up below to avoid needless traffic congestion. Please note that parking in the school carpark is for staff only.
Parents should observe the one-way system which operates in the morning and afternoon and respect and obey the traffic wardens.
Do not park anywhere near the lollipop ladies.
Do not block resident's driveways.
Do not leave your car unattended in Drop Off Zone.
No right turn onto New Grange Road from Drop Off Zone.
St Patrick's B.N.S One Way Traffic System
If dropping or picking up your child from school please use the routes drawn up below to assist with traffic management.
Text
Approaching from Newtownpark Ave
Image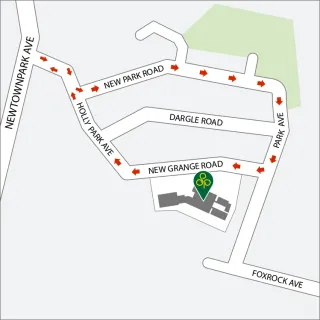 Text
Approaching from Foxrock Avenue
Image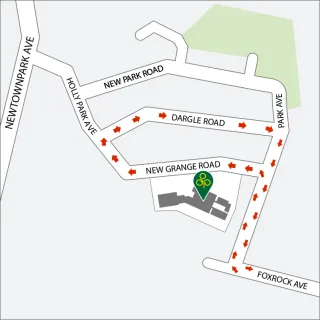 Text
Health, Safety and Discipline Code
Aims:
In keeping with our Mission Statement, our Behaviour policy and our Anti-Bullying policy, we aim:
To allow the school to function in a safe orderly and effective manner.
To provide guidance for pupils, teachers and parents on behavioural expectations.
To enable teachers to teach without disruption
To promote positive behaviour and relationships.
To foster the development of a sense of responsibility and self-discipline in pupils based on respect, consideration and tolerance of others.
To facilitate the education and development of every child.
To develop pupils' self-esteem.
To foster caring attitudes to one another and to the greater school/immediate environment.
To ensure that the system of rules rewards and sanctions is implemented in a fair and consistent manner.
To create a happy school culture within which all pupils and staff feel safe and respected and are able to go about their business with the support of the parent body.
General Guidelines for Positive Behaviour
Pupils are expected to treat all adults and fellow pupils with respect and courtesy at all times. Behaviour that interferes with the rights of others to learn and to feel safe is  unacceptable.
Pupils are expected to show respect for all school property and to keep the school environment clean and litter free.
Pupils are expected to take pride in their appearance, to have all books and required materials and to be in the right place at the right time.. Pupils are expected to obey a teacher's instructions, to work to the best of their ability and to present assignments neatly.
Pupils are expected to attend every day unless there is a genuine reason for absence, in which case the school must be informed in writing, stating the reason for absence.
Behaviour out of Class
In the interest of safety and with a view to preventing accidents, pupils must not behave in any way which endangers themselves or others.
Instructions or directions given by any teacher are to be complied with.
Pupils must line up in an orderly manner when requested.
Corridors – we are working towards 'Silent Zones'.
When going home, classes will assemble so that their exit  can be supervised by the class teacher.
Boys are forbidden to return to school premises after school is officially closed, unless they are engaged in sporting or extra curricular activities.
Affirming Positive Behaviour
Positive reinforcement of good behaviour leads to better self-discipline and we place a greater emphasis on rewards and incentives than on sanctions.
Strategies/Incentives
A quiet word or gesture to show approval.
A comment on a child's exercise book.
A visit to another class or Principal for commendation.
Praise in front of class group.
Individual class merit awards, points awards or award stamps.
Delegating some special responsibility or privilege.
Written or verbal communication with parent.
Discouraging Misbehaviour
The purpose of sanctions and other strategies is to promote positive behaviour and discourage misbehaviour. Sanctions will be applied according to the gravity of the misbehaviour, with due regard to age and emotional development. These may include:
Reasoning with pupil.
Verbal reprimand including advice on how to improve.
Prescribing extra work.
Temporary separation from peers within class and/or temporary removal to another class.
Loss of privileges.
Bullying
Bullying is deliberate on-going persistent behaviour, causing physical pain or emotional distress. The teachers, parents, pupils and Board of Management of St. Patrick's B.N.S. have identified the following types of behaviour:
 Physical bullying: hurting, hitting, shoving, kicking etc.
 Verbal bullying: derogatory remarks about a child's appearance, clothing, schoolwork, family, family circumstances, ability at sport, art etc.
 Constant interference with or demanding of another child's possessions, books, lunch, money, clothes etc.
 Deliberate exclusion of one child by a group, while at the same time letting the child know he is the topic of conversation.
The use of devices, such as mobile phones, computer technology etc. to cause distress.
Central to our Anti-Bullying policy, is disclosure. We encourage the boys to tell their teacher or the principal if they have experienced any incident outlined. We encourage 'bystanders' to come forward.
Yard
Pupils are obliged to play in the designated areas which are visible to supervising teachers. They are encouraged to enjoy the yard by  playing safely.
Pupils may not leave yard or re-enter school building without  permission.
Staff will be vigilant in respect of activities that might constitute assault on fellow pupils.
Food must not be brought into yard.
Helpful reminders for the boys for the yard: 

'If it's not nice don't say it!'
'If it's not nice don't' do it!'

If a pupil is having an issue on yard, or is aware of an issue affecting another pupil, he should tell the teacher on yard, his class  teacher or the principal.
If we are aware of an issue – we can and will deal with it.